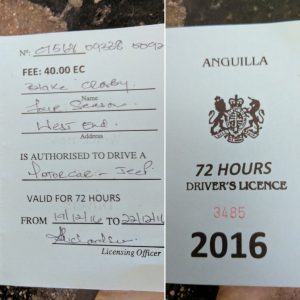 Sam had the great idea to rent a car for the day.
"Can you drive on the left hand side of the road?" She asked.
"Of course!" I replied. The last time I did so, was in New Zealand back in 2009. However, this time I'll be driving on the left hand side of the road with a left hand drive car.
Getting a temporary drivers license was easy, as it was provided by the car rental company at the same time. No test, no photos, just pay $15USD for a 72 hour licence.
The car gave us the flexibility to tour around the island at our leisure. Our first stop: Lunch on Sandy Island.
You pick up the ferry from the docks near Dad's Bar and Grill. Look for the Sandy Island kiosk and let them know that you want to head over for lunch.
While waiting for the boat to arrive, Sam and I had a drink at Dad's to pass the time.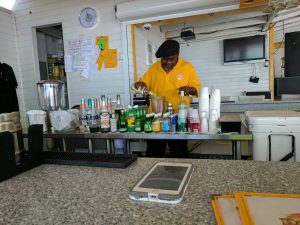 As our boat to the island approached, we were met with another couple from Texas. They were here on their honeymoon. Not missing an opportunity to meet new people, I invited them to join Sam and I for lunch.
Scouring the menu for something delicious, my mouth watered at the thought of devouring some lobster. Previously, my only encounter with lobsters had been with the True Lobster. This was my first time eating a Rock Lobster (aka: Spiny Lobster). The main difference between being lack of two large pincers.
Eating a Rock Lobster involves scooping out the meat from the entire body of the animal, instead of just eating the tail and claws with a True Lobster.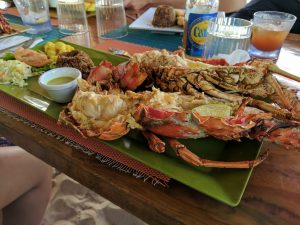 Washing the entire meal down with a few bottles of Carib beer was the perfect accompaniment.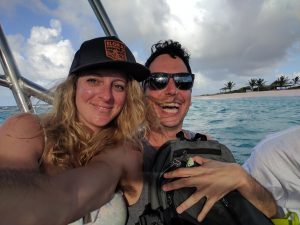 We brought our drinks to the beach & surf and spent the rest of the afternoon shooting the shit with our Texan friends. After a lengthy discussion about politics and gun laws, and sensing that the restaurant staff wanted to head home for the day, we decided to pay-up and hit the road at around 4pm.
The four of us, plus the remaining staff, trash, and uneaten food piled into the boat for the choppy ride back to the mainland.
We wanted to catch the sunset back at the hotel, so we hopped into the car and headed westbound.
Mother nature didn't play nice, and decided to toss in a few clouds for our picturesque view.