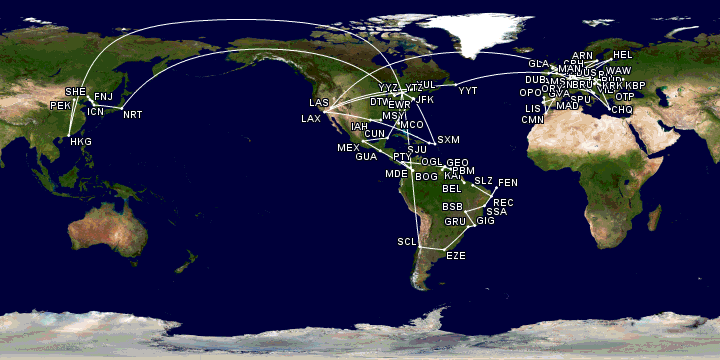 A year on the road meant a lot of airports and a lot of flights. Let's take a look at some of the challenges and some of the highlights of zig-zagging around this amazing planet.
Preface
I wanted the most flexibility when it came to getting around. This precluded pre-purchasing a package such as a round-the-world ticket. These tickets have many restrictions such as: travelling only in the same direction or having a limited number of stops in each zone or continent. Depending on which options you choose, they can cost around $8,000-$12,000.
Last minute travel was necessary, meaning that I might not have got the cheapest fare possible.
I had a checked bag, so that may have added additional cost. All prices are quoted in Canadian dollars.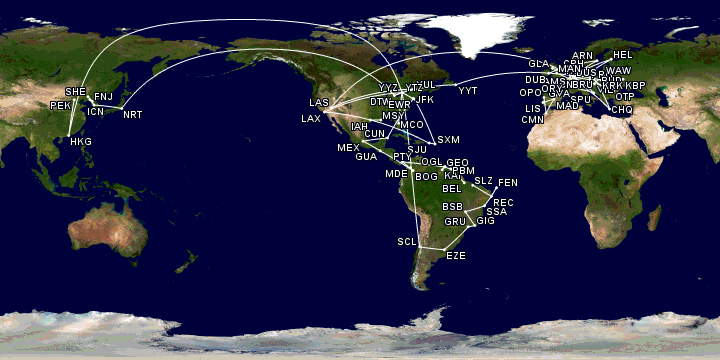 Costs
Total cost of all flights came to: $15,769.48, this included 70 flights on 35 different airlines.
Cheapest ticket was: $42.27, on Viva Colombia between Bogota and Medellin. 
Most expensive ticket was (not first class): $1,825.79 on Air Canada between Buenos Aires, Argentina and Hong Kong (stopover in Toronto). Subsequently, the first class upgrade from the Toronto to Hong Kong leg cost me an additional $1,534.00.
Average ticket price was $303.26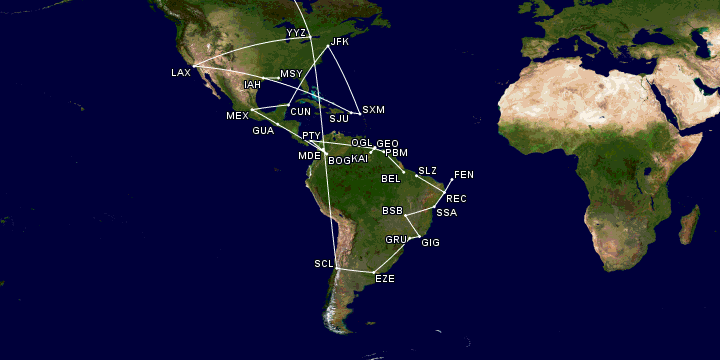 Routing
In most cases the cheapest flight was also the most direct, including stopovers. However, in some cases, the routing was pretty terrible. The worst offender was when I was trying to get from Sint Maarten to Cancun, Mexico. A direct flight (2500km) would have been less than 3 hours by air (red route below). However, I ended up taking a flight that connected through New York, USA. Adding an additional 13 hours of travel time. Cost was $405.82, not including the hotel I got near the airport.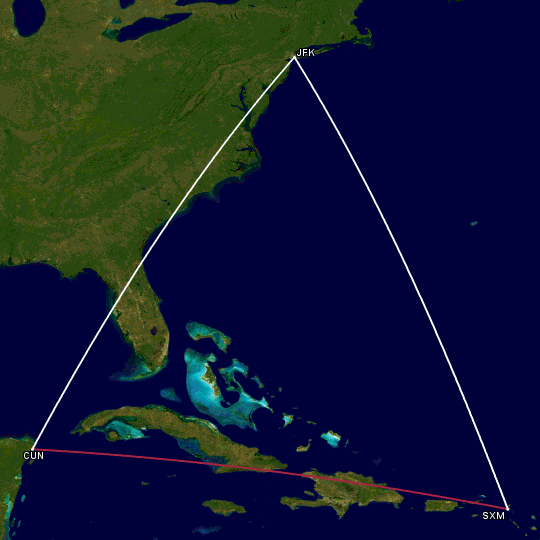 All in all I travelled 118,442Km, or almost three times around the planet!
Getting In (and Out) Of North Korea
Booking my travel to North Korea from Beijing, China offered me two options:
Take a 12 hour overnight train from Beijing, China to Dandong, China then transferring to a North Korean train that would take you down to Pyongyang.
Fly with Air Koryo direct from Beijing, China to Pyongyang, North Korea. 
Excited at the possibility of flying on the worlds only one star airline, I choose option two (red route below). 
A few weeks before my planned trip, the assassination of Kim Jong-nam in Singapore resulted in all flights to/from China and North Korea being suspended. The tour company had to figure out an alternative plan to get my ass to the DPRK. The new plan would be a combination of the two options above.
We would take the overnight train to Dandong, China then hop on a bus to cross the border, clear immigration and customs, then take an internal flight from a military base in Sinuiju, North Korea to Pyongyang (white route, below).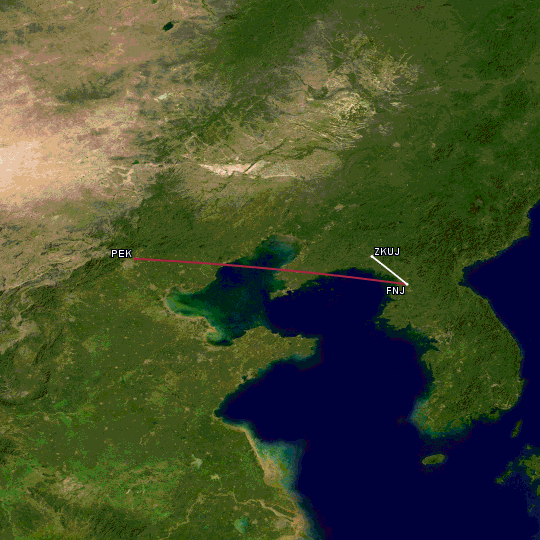 I was still able to experience an international flight on Air Koryo though. When it was time to leave the DPRK, our flight back into China was from Pyongyang, North Korea to Shenyang, China. Our departure date (April 15th) also coincided with a missile test, effectively closing off all the airspace above DPRK. The official reason our flight was delayed eight hours was due to "inclement weather" at our destination. This delay caused a cascade effect of unfortunate events…
Missing my connecting flight from Shenyang, China to Seoul, South Korea meant that I had to rebook for the following day and grab a hotel in town. In my haste the next day to head to the airport, I left my passport in my hotel room! First (and only time) during my trip this happened. Thankfully, I was able to return to the hotel and to the airport again without missing my flight. 
Low Cost Airlines
Having a flexible schedule both in time and destinations was a huge challenge. There are no flight search engines out there that allow you to search for flights using low cost airlines. Most of the time, you can only search for flight availability on the airline website itself. When you can depart from any city to any city at any time, you have too many options to choose from!
I ended up using this wikipedia page to find out which low cost airline operated in a specific country, then used their site to book flights directly. This is how I was able to get a round trip ticket from Bogota to Medellin, Colombia for under $85 on Viva Colombia.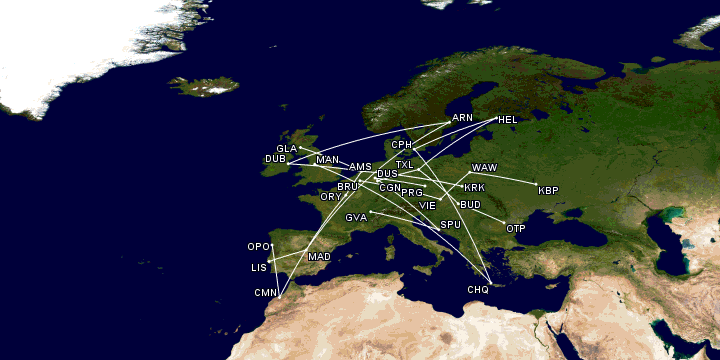 Flying low cost, especially internationally, does have its draw backs though. My introduction to Europe was with a flight from Las Vegas, USA to Berlin, Germany. The almost 12 hour flight on Eurowings included no free food or drinks. Yes, this included water! I had to purchase bottles of water (at 3EUR each) to stay hydrated. No to mention my bag was delayed for 3 days due to a tight connection in Düsseldorf, Germany. But it was the cheapest flight from Las Vegas to any city in Europe at $382.94!
Airline Points
Only 30% of my flights were elegible for earning (aeroplan) points on Star Alliance airlines. Since my primary driver was cost and schedule, and not earning points, I had no qualms about not pulling out my points card.
That said, I did end up spending points for one flight. From Guatemala City, Guatemala to Bogota, Colombia on Avianca. 
Polar Routes
One flight in particular to be super stoked about, was my Toronto, Canada to Hong Kong leg. It would take me over northern Canada, Siberia, Russia, then down through Mongolia, and China. Polar routes are interesting in that airlines can only fly them when the sun's solar flare activities are below a certain threshold.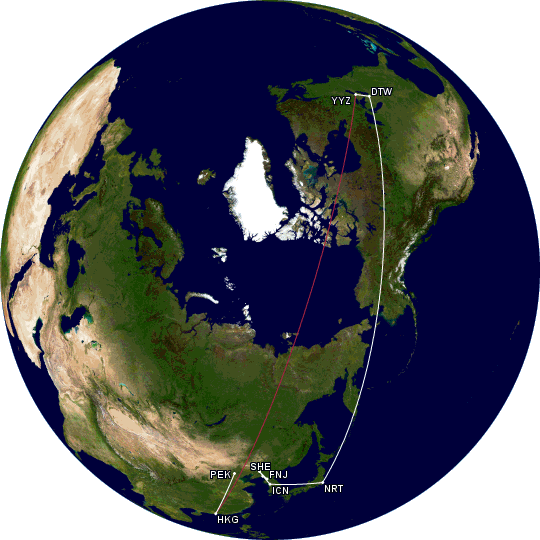 Due to the higher level of radiation at the poles, crew and passengers can be subjected to levels that are above legal limits during unfavourable space weather conditions. Thankfully, I didn't have that problem and my Air Canada flight went (in red, above) took the quickest route to Asia.
Conclusion & Raw Data
The lure and awe of flying was lost on me by the third month. Every airline has the same operating procedures, so other than uniforms, language, and food, there was nothing really different from one airline to the next. Some highlights:
In Brazil I mainly flew Azul. A great low cost airline. I ended up flying it so much, that a flight attendant actually recognized me and hooked me up with a better seat on my last flight.
Checking a bag really does cost you both time and money. Thankfully my bag only got lost/delayed twice on 70 flights. Both due to tight connections. If you know you're going to be connecting flights with less than two hours to spare, ask the gate agent if she can put a "priority" tag on your bag.
Since I didn't care about overhead space, I would always be the last person on the plane. There is no use in lining up, only to wait another 20 min in a stuffy airplane. You have time for that last pint at the airport bar, trust me.
Best airport in the world? Amsterdam Schiphol (AMS). I could live there. 
Worst airport in the world? Berlin Tegel (TXL). Half the airport is underground (or it feels that way) with the most confusing wayfinding ever. 
One flight resulted in a go-around. We landed again the on the second try.
One flight had a flight attendant ask over the PA if a doctor was available to assist in an emergency. 
If you're interested in taking a look at the raw data, here's the google doc spreadsheet.