Belize (which used to be known as British Honduras) is a country with multiple personality disorder. Its culture is strongly influenced by Latin America and the Caribbean, yet has its history firmly planted with the British. This unique clash of influences is what makes this country so exciting.
Our first full day in San Ignacio had us hitting up two major Mayan ruins: Xunantunich and Cahal Pech. We hired a guide and driver to take us to Xunantunich, where we spent the morning checking out the ruins.
In order to get to our destination we had to take a hand crank ferry to cross the Mopan River.
The hardest part about moving all this weight across was trying to get the barge to move in the first place. Once you put your back into it for a few rotations of the crank, inertia took over and the ferry just glided to the opposite shore.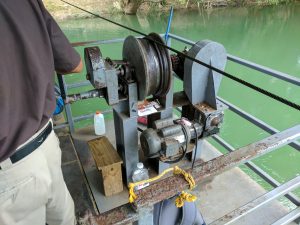 By the time we arrived it was around 9am and the site was pretty quiet and didn't seem to be overrun by tourists, which was great. Our guide gave us a tour, making sure that we understood the history and the reason for why things were built the way they were.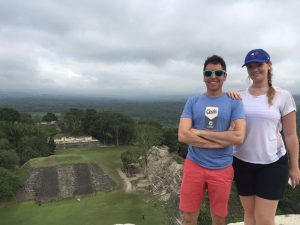 We climbed atop El Castillo, which is Belize's second largest structure at 40m tall. The view from the top was amazing. It's no wonder the Mayan decided to build here!
With our guide, we spent about two hours at the site exploring.
Our next stop was the smaller, yet still interesting, Cahal Pech. This site was within the San Ignacio city limits and is walkable from the city centre. Our guide dropped us off there and we explored on our own.
We headed back into town to grab grab a quick bite to eat before heading off on our second excursion.
Vivien really wanted to go horse back riding, something I had never done before. Always wanting to try new things, I agreed wholeheartedly. Syb was able to work out a deal with the same tour company that took us to the ruins.
I've been around horses before and they scare the crap outta me. So I was mentally preparing my self on the way over.
In the end, it wasn't a big deal at all and I had an amazing time riding Hercules! These horses were so chill and relaxed (with the exception of Vivien's, he was an ass hole) that it made riding them a breeze.
The crew consisted of our guide, the three of us, plus our guard dog Tiger. He followed us where ever we went to make sure that we stayed safe… or at least that's what he thought. Personally, I think he was just bored and wanted to come along for the ride.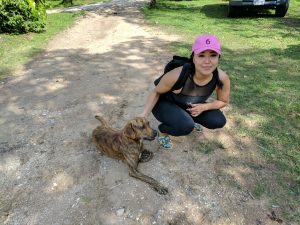 Half way through the ride we stopped off at a local watering hole to go for a swim and cool off. When we arrived there were a bunch of kids doing backflips off the rocks into the pool showing off. Another group had started up a late lunch by putting together a makeshift BBQ and cooking some chicken.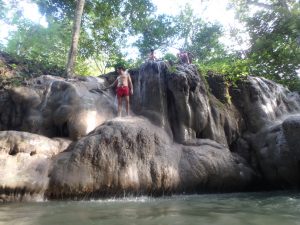 We hopped back on the horses for the 40 min ride back. As we approach a road, Tiger sees something and darts off ahead of us in full charge. I look over and see a handful of wild kittens scrambling up a tree to avoid the dog.
One falls down just as Tiger arrives and we hear a yelp. I knew right away what happened. Vivien and Sybil both gasp as Tiger comes out of the brush with a black and white kitten in it's mouth, all proud.
We witnessed natural selection in full force, and it was awesome. Only the strong shall survive.
Our first full day in Belize was coming to an end. Tired and sunburnt we completed the cliché by riding home into the sunset.
Looking back, this was the most fun I've had since I embarked on this adventure.