It's always a constant battle between your travel plans and being able to afford that next trip. There are a few sites out there (like workaway.info) that pairs up hosts and workers for free room in exchange for work. This is handy if you're already on the road and wants to lessen the load on your wallet.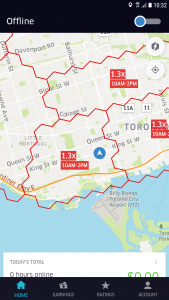 However, I wanted to try something different and get paid in cold hard cash instead. With bike in hand, I decided to sign up to be an Uber Eats delivery boy. 
It works like this: Using my smart phone, Uber tells me which restaurant to pick up the food and which location to drop it off. Pretty straight forward.
Monday morning: 10:51am. My phone buzzes with my first pick up at Bacon Nation in Kensington Market. Hmm.. Monday brunch it seems! The app doesn't tell you where you are dropping off the goods until after you put the food into your insulated bag and tap "start trip".
Looks like I'm heading up to Church and Wellesley hood. Riding along I'm thinking to my self: "Who is this person? Shift worker? Late night partying last night? Unemployed and looking for work?". 12 Minutes later I arrive at his apartment and head up the elevator. 
Knock, Knock. 
The door opens and a bleared eye man wearing a tracksuit in a blacked out apartment opens the door and reaches for the food. He blurts out a thanks and closes the door.
Delivery #1 done. $7.32 in my pocket. 
This goes on for ten more deliveries before I call it quits at 3:04pm. Total for day 1: $74.74 during 3hr 50min or $19.66/hr. Hmm.. not bad!
In the end, my week looked like this:
| | | | | |
| --- | --- | --- | --- | --- |
| Day | Payout | Total Hrs. | # of Trips | Rate (/hr) |
| Monday | $74.74 | 3.8 | 11 | $19.66 |
| Tuesday | $122.45 | 5.5 | 18 | $22.26 |
| Wednesday | $65.80 | 2.7 | 10 | $24.37 |
| Thursday | $109.75 | 4.2 | 16 | $26.13 |
| Friday | $38.72 | 1.8 | 6 | $21.51 |
| Saturday | $85.73 | 3.6 | 12 | $23.81 |
| Sunday | $0.00 | 0.0 | 0 | $0.00 |
Things that worked for me:
Weather was perfect. Sunny and 18°C. Any bouts of rain where short lived and no more than 10-15mins long. 
I'm able to work any time during the day or night. So timing my shifts to coincide with peak times (30% bonus) means that I can maximize my earnings. 
I'm a confident douchebag that is always aware of the clock:
Heading straight to pick up counters at restaurants to pick up my order. Line? What Line?
Calling the customer while on the road if they don't provide a buzz code to their apartment to come down and pick up the food.
Cancelling a run if the restaurant doesn't have the order ready within 1 minute so that I can pick up a new (paying) order. 
Taking the stairs up five flights instead of waiting for the elevator in apartment buildings.
Things that worked against me:
The Uber Partner app is a piece of shit. It's slow and it uses up to 3GB of data per month (WTF Uber!). It assumes that drivers are idiots (rightfully so) and defaults to giving you turn by turn directions instead of the address and major intersection. I always have to perform 2-3 taps to get the destination address up. 
Restaurants that don't have their orders ready in time. This means that I have to cancel the pick up, which counts against me even though Uber suggests that I do. 
Pedestrians… They still aren't used to seeing bikes in the road and are not paying attention. Case in point:(yeah, shitty portrait style video.. complain to instagram about that).
Uber allows you to select "meet you at the curb" or "deliver to door". The curb-meeters are never there when you arrive.. So you end up waiting, or knocking on their door anyway.
Conclusion
I had fun. I love being outside and I'm getting paid to ride my bike and get exercise. Assuming the weather holds up and it doesn't rain or get too hot.. working ~22 hours a week and getting $500 is a pretty good gig for someone who wants to have the time to still travel/see the city. 
The flexibility of working the lunch or dinner rush means that you can still have a plan for the day and have a social life to hang out or get your grocery shopping done, etc…
I achieved my goal of $500 for the week! Time to celebrate with a few beers on one of Toronto's many patios.