When my friend Kate told me her and her husband Greg were going to be in Greece this summer, I jumped at the opportunity to hang out with them. I used to work with Kate and the last time I saw them was over a year ago at their wedding.
I met up with the two, after checking into my hostel, for some drinks and much needed catching up. It was already late considering our 5:30am wake-up the next day. However, we just couldn't help our selves as the three of us chatted away while imbibing in the cheap drinks.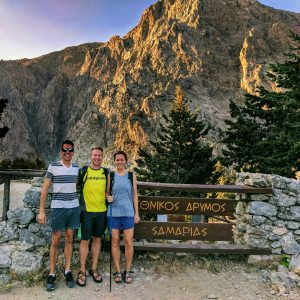 The next morning our bus picked us up for the 90 minute drive to do an epic 6 hour (16km) hike through the Samariá Gorge. The road was filled with hairpin turns and switchbacks as we headed up the Lefka Ori mountain range. I was planning on getting some shut-eye on the bus ride, but was rudely awoken by someone near me throwing up in a bag. She was not having a good start to this hike.
We arrive around 8am with strict instructions from our guide on what time we needed to be at each checkpoint along the route. The three of us are experienced hikers and are more physically fit than the rest of the group on the bus. The deadlines seemed reasonable and I figured they were padded to encourage the slower people in the group to haul ass. 
We start the hike at our normal pace making our way downhill on uneven ground. People are flying by, passing us on either side of the single track trail. 
"I feel like we're going pretty fast. We can't be slower than these guys?" Kate chuckled. 
"Uhh.. Yeah, I have no idea what's going on. I'm sure we will be fine. Lets keep going." I reply.
The hike so far has been amazing. The level of difficulty isn't that bad, it's just the uneven rocky terrain that is the challenge. By the midway point my calves and ankles were starting to feel the strain.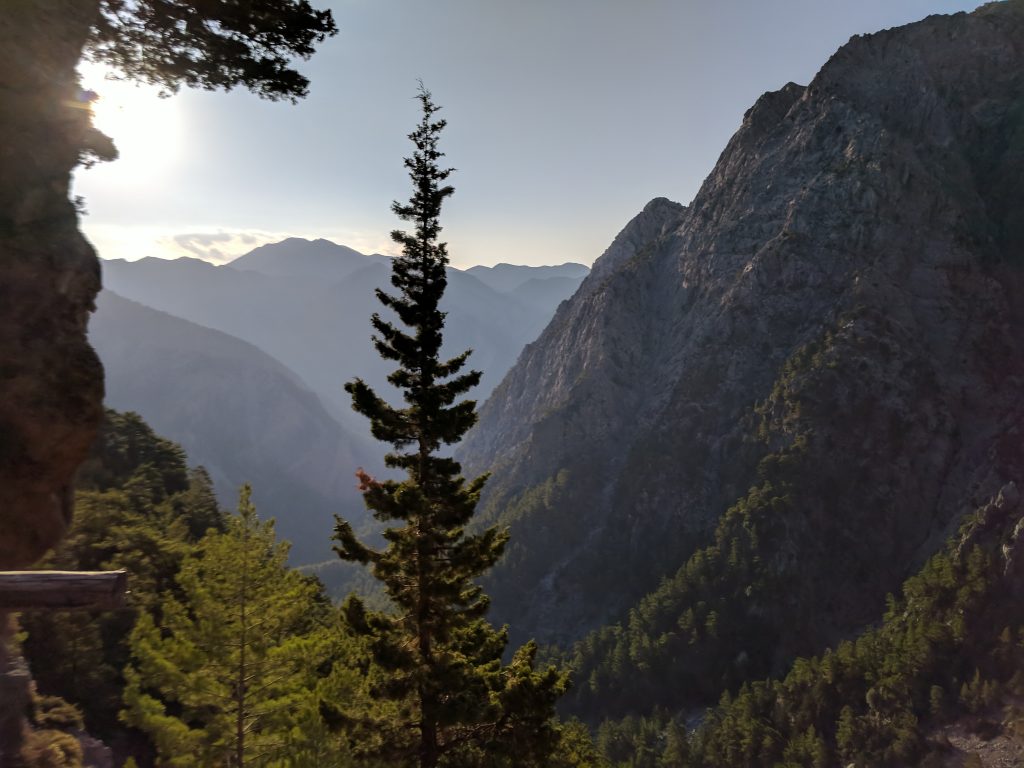 We get to our lunch stop and the place is pretty busy. "These people can't all be from our group" I thought to my self. Slowly but surely people from our group are showing up as we're finishing lunch. Phew! We're not the last in the pack. Our pace is fine.
We continue the hike, and by now the sun is directly above us and it's starting to get warmer. The trail is heating up too, as we're encountering people coming from the opposite direction. Seriously annoying on this single track trail.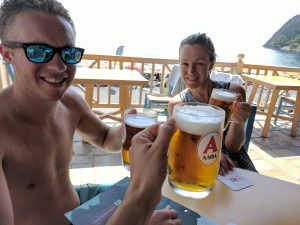 When we finally make it to the end of the hike, we're greeted with about an hour and a half before our ferry back to the pick up point. We take this opportunity to go for a swim to cool off, and grab some food and beers to reward ourselves. 
The next day I woke up and hobbled out of bed. My legs were pretty sore from the hike. No problem though! Today was a beach day. 
Crete is pretty famous for it's beaches, so it would be a shame to not enjoy some sand and sun.
The three of us grabbed a set of chairs and umbrellas and plopped ourselves down. The original plan was to spend the morning at the beach, then head out and do some shopping or something else later on in the day.
The cycle of drinking, cooling off in the ocean, and drinking again continued all throughout the day. We were having so much fun at the beach it wasn't until our server said she was leaving for the day did we realize how late it was.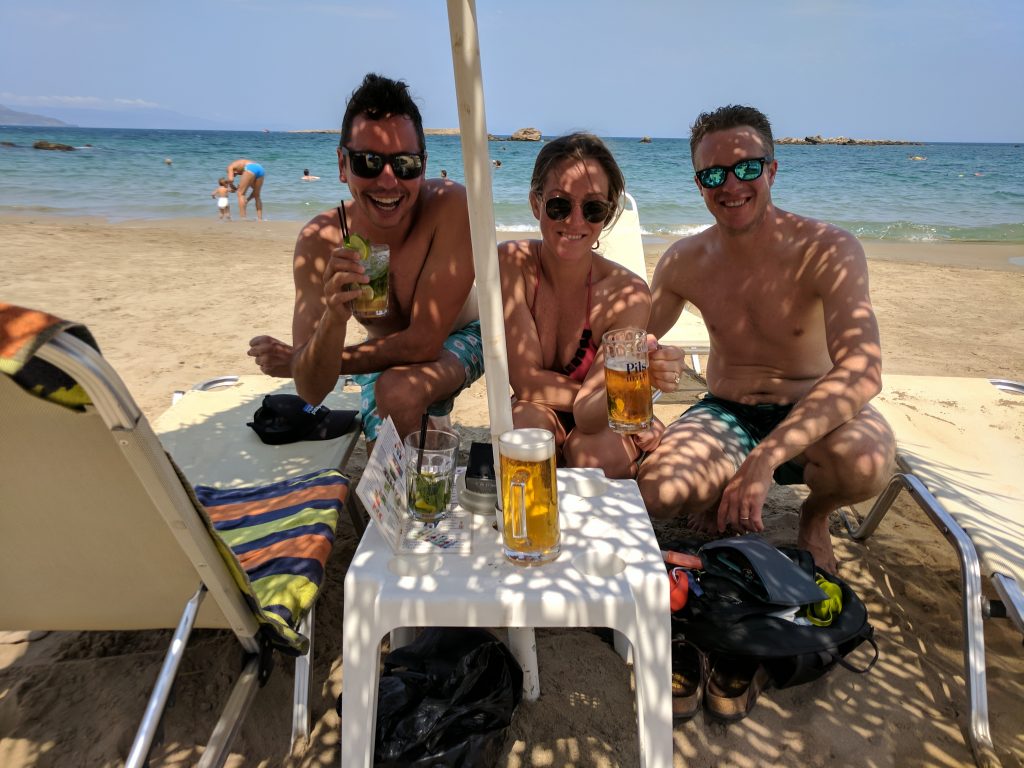 I really missed hanging out with these two. Our time in Greece was too short, but we were still able to get in lots of laughs. 
That night the laughs continued over dinner with two other people I had met in the hostel. The five of us filled our bellies with amazing greek food and wine. By this point my level of intoxication was extremely high. After drinking at the beach all day, the sun, and drinking some more at dinner, I decided to ask Kate for a cigarette (yeah, I don't smoke).
I pop the butt into my mouth, then turn to the table behind us, who were speaking in French. 
Without knowing the proper word for "lighter" in French, I ask them:
"Excusez-moi. Avez-vous le feu?". 
The woman chuckles and hands me a lighter to light my cigarette. Smoke burning my eyes, I chat it up with them for a few minutes in French. 
Kate ushers me outside to finish up smoking, the laughs continue, and so does the intoxication. The remainder of the evening is a blur…