Travelling means something different to everyone. Those of you who like to stay in hostels do so for many reasons: saving money, meeting new people, a prime location downtown or in the hills, free tours, free breakfast, etc…
Whether this is your first time staying in a hostel or are a seasoned hostel goer, here are some tips to make your stay more enjoyable.
Rooms & Sleeping Arrangements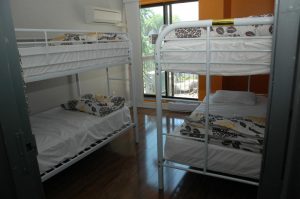 Hostel accommodation usually comes in two styles. Shared rooms where you sleep in bunk beds with others or private rooms where you sleep alone. 
Private rooms have the benefit of complete privacy, with all the social benefits of staying in a hostel. They can be cost effective if you are splitting the room with someone else. 
Personally, I like to stick to dorm rooms with the least number of people. This means staying in a 4 person dorm versus a six or eight person dorm. Yes, they are more expensive, but less people means less opportunities to be disturbed.
Top bunk or bottom bunk? It really depends on your preference. Some travellers feel like they have more privacy on the top bunk, while others don't want to have to deal with climbing a ladder to get to bed in the middle of the night. In most cases you wont have a choice, but it never hurts to ask when you make your reservation.
Booking Your Bed
The de facto standard for booking a hostel is to use Hostelworld. The website allows you to see all the available properties on a map and all the available amenities (wifi, parking, breakfast, etc..). Additionally, their review system is handy if you want to read about experiences from other people staying at the property. 
I usually use Hostelworld to find my top pick, then go to the hostel's own website to book. You may get a better rate if you cut out the middleman (Hostelworld) and book with the hostel directly. 
Watch out for taxes! Some hostels include taxes in their prices and some do not. If they are not included, then you will be required to pay them when you check in. 
Some other items you might have to pay for include: Towels, key deposit, security deposit. Make sure you have some cash in the local currency handy when you check in. Most of the time you will get the money back when you check-out.
The Social Life
When it comes to socializing at a hostel, there are usually two types of properties.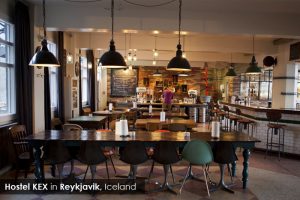 The party hostel is exactly what the name implies. They usually have a bar on site with drinking games and a happy hour. Popular with the younger crowd, it's handy for finding cheap drinks and a good time. They tend to be louder and more up beat than the non-party type.
I love going to party hostels to socialize only. Most of them allow people from off the street to hang out in their common areas and drink their booze. If I'm staying at an AirBnB or Hotel and feeling lonely, I'll find the closest party hostel and hang out.
The other type of hostel is a little more relaxed. The common areas are smaller and don't usually include a bar or restaurant. Great for a quieter and more "adult" like experience. Perfect for having those deep and meaningful conversations over some great local beer or wine. No dance music and drunken twenty-somethings to distract you from great conversation.
Getting To And From
You will be surprised at how many Hostels offer free (or cheap) transfers to and from the airport. Try to take advantage of them, especially if you are arriving or departing really late at night.
In some cases the hostel might even have discount bus or train tickets. Don't be afraid to ask at reception if they are able to hook you up with a cheaper rate.
Some Essentials
Bring along ear plugs to drown out any noise. Personally I don't use a blindfold/sleeping mask, but if you need it to be pitch black to sleep, one will help. Bring a lock, so that you can take advantage of lockers to secure your valuables. 
Flip Flops are essential! Super handy for taking showers and walking around the common areas. Please wear them and don't walk around bare foot!
A flashlight comes in handy when you want to find your way around a dark room. Common etiquette dictates that you DO NOT turn on the room light at 4am while you try to find your phone charger. It can also come in handy when you want to read a book late at night.
Further Reading
Sophie over at Travelettes has put together 20 tips for surviving hostel life that you should check out!