Rain, rain, rain. It's been raining non-stop in Texas for the past three days.
Regardless of their questionable history (the Don't Ride Megabus twitter account is scary) I decided to take a Megabus from Houston to Austin. Their reserved seating allows me to sit right up front on the second level of the bus to get a "front seat" view of the trip.
Thanks to the rain, the view was not worth the extra $7.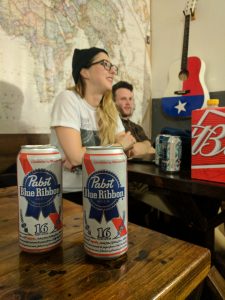 I'm staying in the Firehouse Hostel, an old Firehall that was built in 1885. I forgot how much fun hostel life can be. Meeting so many interesting people. I'm bunking with a French woman who will be in New Orleans the same week I'm going to be there! Contact details exchanged – we'll see if we get together for some sightseeing.
After checking in, I headed to the kitchen to introduce my self to the other guests and see what's going on tonight.
We ended up getting to know each other over beers before hitting up Violet Crown Social Club to imbibe some more. The place was packed so we were forced to sit on the patio, freezing our asses off.
Since the bar didn't sell food, we were able to grab a few pizzas from Via 313 Pizza. Known for it's authentic Detroit style square pies. The gang scarfed them down in no time.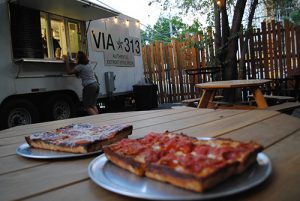 I said goodbye to the crew and walked to Kingdom, a local club, that was playing Dirty South (City of Dreams). It's been awhile since I've listened to decent house music, so this filled a craving I was having for awhile.
As my drunk ass poured out of the club at around 2:30 am, everyone was heading to a place to eat something to soak up all the alcohol.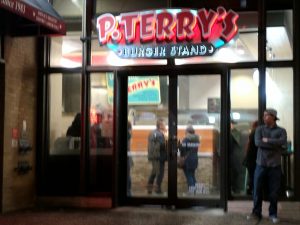 I ended up at P. Terry's Burger Stand, a local chain of late-night burger joints in Austin.
Don't expect me to give you an honest and sober review of this place, because I was far from it when I inhaled the burger and fries.
The rain continued as I stumbled back to the hostel.
Waking up at 10am the next day, I got dressed and hit up the 24 Hour Fitness to do a BodyPump class. This was probably the best instructor I've had on this trip so far…
Hopped on the bus, in the rain, back to the hostel were I ended up chatting with a few people and enjoyed lunch in the kitchen. I was bored, Austin was supposed to be this "awesome town". Yet everyone I've talked to so far can't really pinpoint what makes this place so "awesome".
Trying to cure the boredom, I went to a coffee shop to sip on a cortado and figure out what to do. Someone recommended that I check out do512.com, which didn't disappoint. I figured out where I was going for dinner!
Taking the damp ride up to the north part of town, I ended up at Black Star Co-Op to try their smoked Helles beer. I didn't end up trying it, instead having a red ale called "Double Dee". It was brewed with locally grown barely.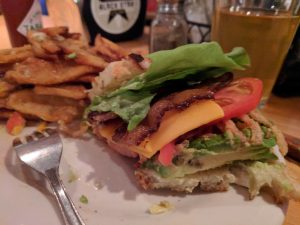 Settling up my bill at the end of the meal, I didn't notice a place to write in a tip on my credit card receipt. When I asked "what's up?", the server replied: "we don't accept tips here!".