I was planning my next destination when I learned that I needed to get a travel visa before being able to enter the country. As a holder of a Canadian passport, this is a rare affair and got me thinking: which passport holder would be able to visit the most countries visa-free?
Turns out Henly & Partners, a company that handles residence and citizenship planning, produces an annual Visa Restriction Index for every country. 
Canada ranks as the 6th least restrictive country when it comes to visa-free travel to the rest of the world.
| | | |
| --- | --- | --- |
| Rank | Visa-Free Countries | Passport Holder's Country |
| 1 | 177 | Germany |
| 2 | 176 | Sweden |
| 3 | 175 | Finland, France, Italy, Spain, United Kingdom |
| 4 | 174 | Belgium, Netherlands, Denmark, United States |
| 5 | 173 | Austria, Japan, Singapore |
| 6 | 172 | Canada, Ireland, Luxembourg, Norway, Portugal, South Korea, Switzerland |
| 7 | 171 | Greece, New Zealand |
| 8 | 169 | Australia |
| 9 | 168 | Malta |
| 10 | 167 | Czech Republic, Hungary, Iceland |
172 out of 212 countries isn't bad. Data is for 2016. 
The visa application process can be a pain and you need to do some planning ahead of time. My visa application for Brazil will take 10 business days to process. During this time I will be without my passport.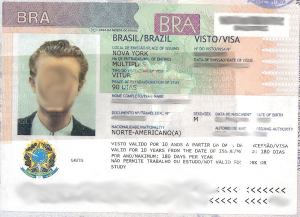 If you are travelling, with no fixed address, what's the best way to receive your passport with your newly minted visa in it? This is where you can take advantage of consulates (I'll discuss the difference between consulates and embassies in another post). 
My next major stop will be in Colombia, which happens to have a Brazilian consulate in Bogotá. I can bring all my paper work, my passport, and the visa application fee to this location for processing.
They will take a look at the all the paper, do the necessary background checks, then use up an entire page in my passport to glue the visa in. So make sure you have a free page available. 
Twelve to fifteen days later, I can return to the consulate to pick up my passport. Phew! In the mean time, I'm stuck in Colombia without a passport.
There is another gotcha that you might run into when trying to enter into another country: reciprocity fees.
In my particular case, Canada requires citizens of Argentina to apply for a tourist visa and pay the necessary fees. Although Argentina doesn't require Canadian citizens to apply for a tourist visa, they charge a reciprocity fee to enter the country. This fee is the exact same amount Argentine citizens need to pay to apply for their Canadian tourist visa.
These fees can be paid as part of your immigration into the country or online ahead of time. I decided to pay online and print out my receipt, which I will show to the immigration officer when I arrive.
To get a list of which countries you can travel visa free, visit your countries department of foreign affairs or similar. For Canada, you can visit travel.gc.ca.