San Pedro attracts a lot of Americans. So much so, a lot of the bars and restaurants cater to them directly. Wings, American Beers, and Football.
Carlo & Ernie's runway bar is one such place that Vivien and I hit up to soothe our hungry souls. We plopped down and ordered some drinks while fat Americans yelled at the TV screens.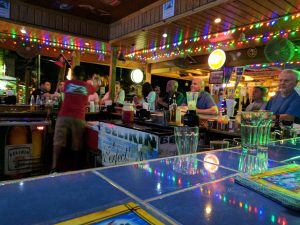 I wanted to go to this place for its proximity to San Pedro airport. It's literally a stones throw away from the runway. I was only able to catch one or two aircraft taxiing around before feeling guilty for leaving Vivien alone at the bar.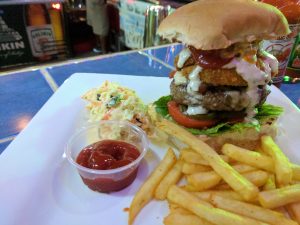 Belekin in hand, we came up with theories as to why this place was so popular amongst Americans. Was it because it's the only English speaking country in Central America? Or because it was close to the USA? Unsure, we continued to sip on our drinks.
After fifteen minutes or so my heart-stopping burger arrived. 
The food was delicious! If you're looking for good pub food in San Pedro, then hit up Carlo and Earnie's.
If you are looking for a more healthier option in town, Syb and I hit up Wild Mangos at the end of Barrier Reef Drive. Smoothies, salads, and fresh ceviche. The chicken burger with side salad that I ordered was amazing.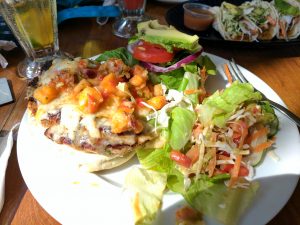 Vivien and I inhaled our meal then headed out for a evening ride in our golf cart….
Yes… golf cart.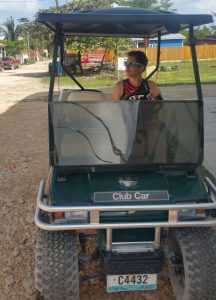 Most everyone in this town gets around on a golf cart. I've been unable to find any details as to when this trend started. But here we are, in our basic Club Car cart with a foldable back (to store luggage). It wasn't the most luxurious of rides, but it got us around quickly.
This portion of the trip had no itinerary. The plan was to stay here for a few days, unwind, hit the beach, and recharge before the big New Years Eve party in Playa Del Carmen, Mexico.
So we spent lazy days on the beach, where I took some amazing shots of both Sybil and Vivien. Sometimes I really miss lugging around my (old school) Nikon D70. Maybe I'll get back into photography again?!
Rested up and sunburnt, we pack up our stuff and prepare ourselves for the long travel day back up to Mexico. The 90 minute boat ride back to Belize City, then another 8 hours or so on the ADO bus to Playa Del Carmen.