Sybil hooked us up with a sweet AirBnB close to all the action. It was walking distance from the bus station as well as the infamous 5th avenue.
This was a party town and it was confirmed within the first five minutes of us walking the strip.
"Weed, Molly, Blow?" I hear someone whisper to me.
We keep on walking.
"Coke, blow, coke you want?!". Someone else says in broken English.
Damn. The drug dealers were not subtle at all down here. If you're looking to score, it shouldn't take you more than a five minute walk down 5th avenue.
This continued the entire length of the street as we darted in and out of shops.
Earlier in the day I had been swiping around on Bumble to see if I could find a date for New Years eve, when I matched with someone oddly familiar.
She sends me a message:
"You're in Playa too?! If you wanna come for drinks we're at Abolengo on 12th!"
Last September, Alana and I went on a date back in Toronto!
The three of us met up with her crew and had a few drinks at Abolengo Bartina. If you're looking for a fun, cheap place to dance and drink. This is the place to be.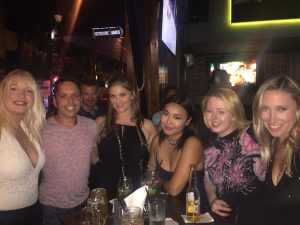 The town was hopping. All the bars and clubs were packed and overflowing into the street. Confirmed: This is the place to be on new years eve.
We didn't want to go too hard tonight as we were saving our selves for New Years Eve at The Blue Parrot.