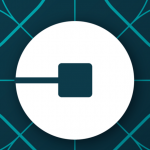 Uber and other ride sharing services has lightened the load on travellers when it comes to getting from point A to point B. No more haggling with taxi drivers at the airport or wondering if you've got ripped off because of a language barrier.
Getting your fare upfront, not dealing with cash, being able to see your pre-planned route, and the ability to share your ride status with a friend makes Uber a safer alternative to other transportation options.
Here are some tips to get even more out of Uber while you're travelling around the world.
No SIM? No Problem.
You don't need a sim card to use Uber in other countries. All you need is WIFI access to set up your ride. The trip will be completed properly regardless if you have cellular data access or not.
If you are using a local SIM, keep in mind that the driver will not be able to call you. Unless you update your phone number in the uber app to your local one, uber will be ringing your home number instead.
Local Currency, Don't Freak Out
Uber shows you fare estimates in the local currency, keep this in mind. Always check for the currency code (eg: COP, MXN) or the currency symbol (eg: $, £) before the value.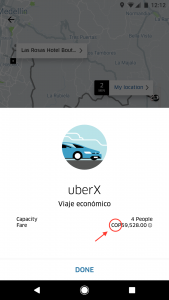 In the example above, a ride from the airport to a hotel in Colombia is estimated to be $59,528COP or $27CAD.
The fare estimate is just that. If your route is via a toll road, or you need to pay a fee for airport pick-up or drop-off, this may be added to your bill after the trip completes. 
If you have a credit card that has a better foreign exchange rate than another, be sure to set up that additional card in your uber account and use it while travelling. 
Arví Park or Parque Arví?
I always like to use place names instead of addresses as it is quicker and easier to to use when setting up your destination in the app.
Its easier on the driver if you put the destination in their local language, if possible. That will avoid any confusion when the driver confirms your destination and it will ensure that their navigation software (such as Waze) will be able to locate your final stop.
Backseat Drivers?
Some Uber drivers prefer that you sit in the front seat if you are travelling alone. It varies from city to city, but the main reason is to draw less attention to the vehicle as an Uber.
Incumbent companies like taxis may still have issues with the ride sharing service. Sitting in the front seat helps avoid targeting the Uber driver.
Habla Inglés? 
Uber also offers the ability, in certain cities, to request a driver in English (possibly other languages too) for an additional cost. 
I considered this on a 45 min trip from the Airport to the Hotel. Spending almost an hour in a car in silence (since I don't speak a lot of Spanish) seemed painful.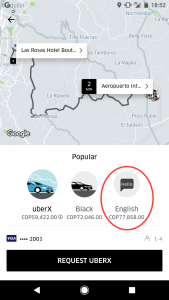 Conclusion
Overall my experiences with Uber while travelling have been positive. Drivers have been polite and are generally interested in why you want to visit your country.