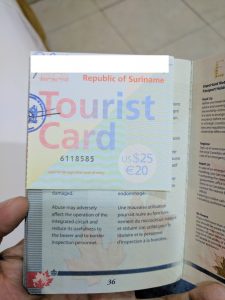 I'm planning on making the trip to Suriname by land from Georgetown, Guyana. As such I will need to obtain a travel card before entering Suriname immigration. If you are travelling by air, this is done in real time at the Paramaribo airport. 
The tourist card is valid for single entry only, so keep that in mind. A full list of countries that are eligible for the tourist card can be found here. 
The service is "same day", however, you will need to be organized ahead of time in order to go through this process pain free.
Collect Your Documents
You will need to submit the following documents in order to receive your tourist card:
A copy of your passport photo page.
A copy of the passport page which contains your Guyana entry stamp.
Your passport.
You will need to bring the following items to process your application:
$35USD in cash. Small notes only, they accepted my $20 notes.
You will need to have proof of the following when you arrive in Suriname:
Yellow fever vaccination (no need to bring your immunization card to the embassy).
There is a strict dress code in effect for both men and women. Long pants, closed toed shoes, and an appropriate shirt (short sleeves are ok). I was able to get in with running shoes, jeans, and a polo shirt no problem. For women, closed toed shoes, a long dress (below the knees) or pants and a blouse are acceptable. 
The Embassy
The embassy is located on the north west corner of Anira and New Garden Streets. It's a green and white building flying the Surinamese flag. It recently moved from a few blocks away, so ignore any maps that tell you it's elsewhere.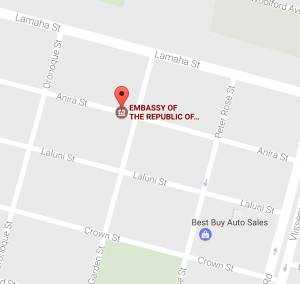 You must arrive before 10:30am in order for them to accept your application. Walk up to the gate off New Garden Street and the guard will let you in. She will ensure that you have all the prerequisite paperwork and make you sign a log book.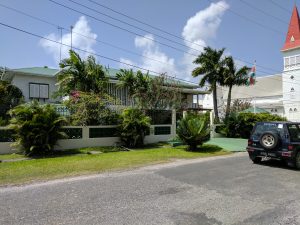 The Process
Enter through the door and hand in your documents and money to the clerk on the other side of the glass. She will ask you a few questions to ensure that the travel card is going to meet your needs. 
They will keep your passport and copies while they process the application. You will be given a number on a piece of paper to hand in when you return. The clerk will let you know when you can come back to pick up your documents. Mine told me today at 1:00pm.