I decided to kick off the 2017 festival season by hitting up Electric Daisy Carnival. A mainstream rave that started 21 years ago in Las Angeles.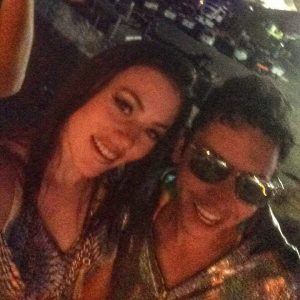 The three day electronic music festival is hosted at a racecourse just north of Las Vegas. As soon as the tickets went on sale, I scooped up two VIP wristbands back in November. At the time I had no idea who was going to go with me.
As the event date drew near, I started going through my list of friends who I wanted to party with. Each one of them turned me down. I have no issues going solo and selling my extra wristband would be a piece of cake. But I really wanted to go with someone.
As I went through my list Facebook contacts, I remembered meeting someone last summer that I think I could have fun with.
Lauren and I met for the first time at Hanlan's Point in Toronto, we became friends on Facebook and didn't end up hanging out again after that. 
Naturally, I was a little apprehensive at first, but I decided to let her know that I had an extra ticket to EDC and if she wanted to go. She jumped at the idea and said she would love to party it up with me. Awesome! I'm always down for an adventure. Spending four days with a complete stranger is always a good time, right?
Our flight to Vegas departed from the Toronto Island Airport and headed east to Montreal, where we would catch a connecting flight south. As we boarded the plane we hear someone called out her name: "Lauren!". I turn and it's one of the flight attendants! Lauren and her went to school together.
We make our way to our seats and both look at each other with smirks on our faces.
"Free Booze?" I inquire. 
"Maaaaaaaybe!" Lauren replies.
We're not even in Vegas yet and the possibility of getting comped booze is high!
About half way into the flight, her flight attendant friend comes over and asks us if we want anything to drink. Score! We enjoy some free wine and plan out what we're going to do over the next few days. 
We land in Vegas, grab our car, and check into our AirBnB. We're both tired and crash hard. Day one, here we come!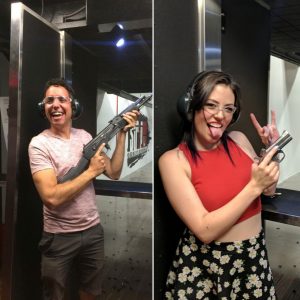 "I want to shoot some guns!" Lauren exclaimed. She grabbed her phone and giggled at the name of the gun range: Strip Gun Club. 
I was a little nervous, which is rare for me. I've never held a gun, let alone shot one. We get to the range and the staff were super helpful and friendly. They handed us a menu with all of the guns we could shoot along with package prices.
I wanted my first experience to be easy, so I decided on 9mm weapons as a good introduction. The Glock 19 and Uzi. For my finale, I'd shoot the AK-47.
We were having so much fun. After each round we'd do a little dance because we were so excited to try out the next weapon. Our range master, Matt, was enjoying the show!
We were having a blast and any fears I had about this weekend being a bust quickly melted away, literally. Vegas was hot as daytime highs hit 45°C.
After shooting all of our rounds, and taking the obligatory photos, we head home and get ready to hit the festival.
Arriving at EDC for the first time, I was overwhelmed. This place is HUGE.
We spent the next 5 hours or so familiarizing ourselves with the grounds, how VIP worked, etc… Of course we got some dancing in as well! Tomorrow we're going to party hard. Both of us were concerned with the heat though. Even at 4am, it was still 30°C!
We headed back home just before dawn to get some rest and prepare for the big day tomorrow.
Waking up at 1pm, Lauren worked her magic and got in touch with a friend who worked at Marquee. The day club for The Cosmopolitan Hotel/Casino. We wanted to cool off in the pool before we headed to EDC for day two.
In our beachwear Lauren drops a few names to the bouncer at the club, he checks a few things and lets us in without paying a cover. Yippee! I was excited to go because of Dash Berlin, the DJ spinning today.
The place was hopping, we grabbed a few drinks and spent the next 5 hours or so getting some sun.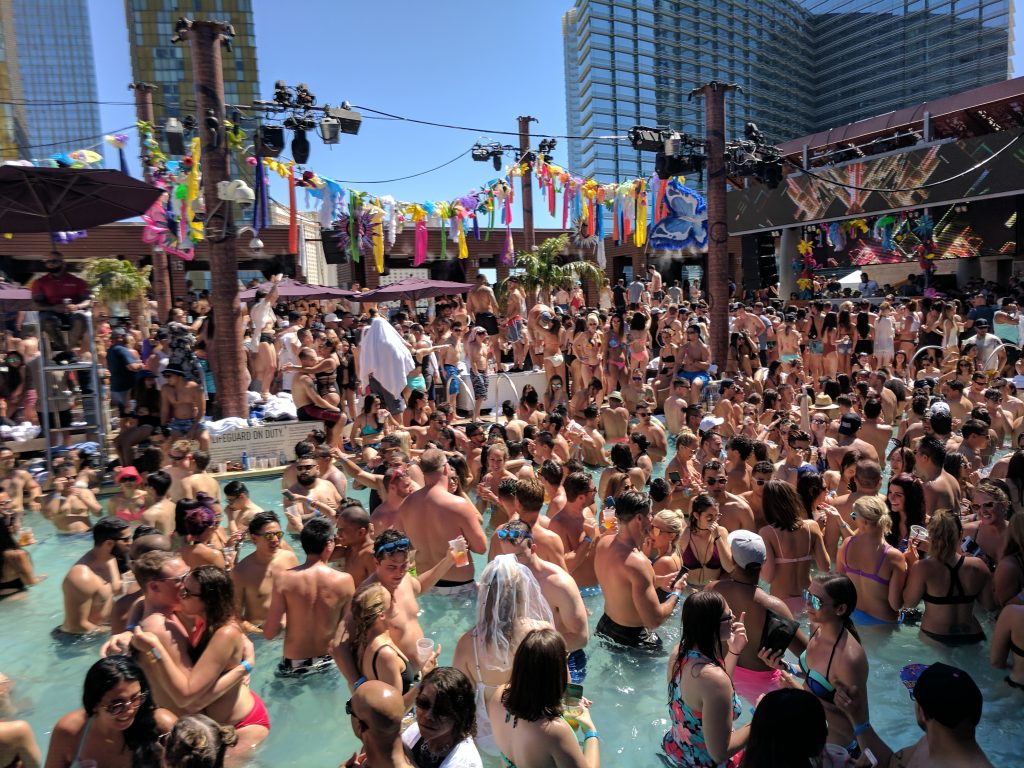 So far, Vegas did not disappoint. Lauren and I were having a blast and we couldn't wait to get to EDC to continue the party. Little did we know what we were going to get ourselves into…