You'll need to read Parts One, Two, and Three before continuing.
I get up from the grass and head over to the meeting spot. I don't want to break my #1 rule of raving: Leave before the sun comes up.
Lauren and Adam are waiting for me and we head to the car. The drive back is bitter sweet, the three of us are realizing that the fun is over and reality awaits for us in a few hours.
I have to catch my flight to Berlin in 12 hours and Lauren is off to Los Angeles to visit a friend. I drop the kids off at the Bellagio and head back to the AirBnB solo to clean up and pack up my stuff. Check out time is 11am. I plop down on the bed and set my alarm for 10am, two hours from now.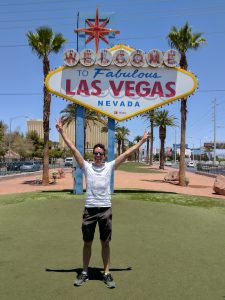 It takes me a while to get moving, but I'm able to pack everything up and head out in time. Lauren will be sleeping in with Adam at the Bellagio until at least 2pm, so I have some time to kill. This is the first time this weekend I've had to my self.
After some lunch and the obligatory photo at the Las Vegas sign, I head to the Bellagio to try my luck at the roulette tables. "Max $200" I say to myself.
I know roulette is a losers game. Even if you play the outside (which pays 2:1) your odds of winning are less than 50%. I'm here to have some fun and kill time, not win it big. So I sit down at busy table and start playing my numbers. One of which is my birthday: 24.
On the second roll, 24 hits! Sweet. Payout is $175. I needed to share my excitement with someone so I sent a message to my buddy Brian (who loves roulette):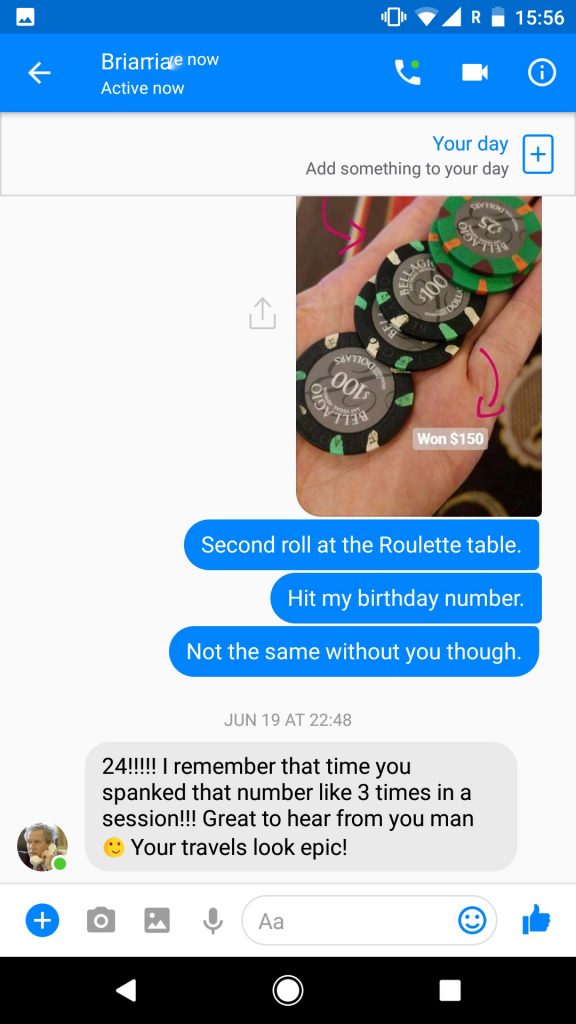 I play a few more times, and the table starts getting cold, so I cash out $150 ahead. Not bad!
Walking down the roulette aisle I see this cute girl playing at another table. She has a fat stack of chips and an EDC wristband on her arm. Sweet! I pull up beside her, introduce myself, and start playing.
This time around though, I'm playing with $1 chips instead of $5 chips. I want to maximize my time at this table since I'm still waiting for Lauren. 
After chatting with Anastasia for a bit, I quickly find out that she's up over $700 at this table alone.
Ok enough flirting, it's time to ride her luck. So I start playing all the numbers she's playing, plus my lucky number 24 of course. 
The croupier spins the wheel…
"No more bets!" as she waves her hand over the table.
The ball bounces, and bounces, and finally settles on a number.
"24. Black!" the croupier announces.
I jump up screaming… "Yes!"
I had to explain to Anastasia that I always play 24 and that it hit earlier today. So she starts playing it too.
We order some drinks and keep playing, all the while chatting about the festival and getting to know each other. 
The croupier spins the wheel again, the ball bounces around so hard that it flies out of the wheel and on to the table. 
All the players at the table are shocked. Nobody has ever seen that happen before, so we all joke: "Everyone wins!". This is not your typical roulette session.
We both continue winning, my number (24) hitting a total of four times that day. Anastasia decides to cash out and I follow suit asking her:
"Want to grab a drink? My friend still isn't here yet". 
She agrees and we head to the bar to celebrate our winnings. By this time it's almost four o'clock and I have a flight to catch in two hours. 
Lauren joins us and we have some food and one more drink before parting ways. Anastasia and I exchange contact info and hug it out.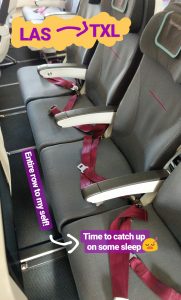 Fun is over! I hop in the car and head to the airport, all the while coming down from this weekend and my roulette winnings. Fuck I'm tired. 
I get on the airplane and realize something amazing… For the next 12 hours I have an entire middle row (4 seats) to my self. Score! I lay down, put my seat belt on and immediately fall asleep before take off.
Eleven and a half hours later I wake up feeling great. This was the first time ever that I was able to get a decent sleep on an airplane. Turns out we're a little bit late arriving into Cologne, where I need to catch my connecting flight to Berlin.
With 20 mins to catch my next flight, I head over to the gate and get on the airplane for the one hour flight to Berlin. I got on my connecting flight, but my bags didn't. Great.