Don't forget to read Parts One and Two!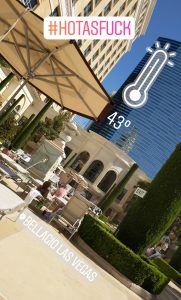 The forecast high for our last day of partying was supposed to hit 45ºC, but we had a great plan to stay cool.
Adam invited us over to the Bellagio to chill by the pool and hang out. So, after waking up at around 1pm we changed into our bathing suits and headed over to the hotel. 
I had never met the guy, so this was a good opportunity for me to see what Lauren was gushing about. 
We wait by the elevators for him to come down and meet us. The door opened and I had to raise my gaze up. Way up. The 6'11" (211cm) figure strides out of the elevator wearing bowling shoes and some sort of housecoat kimono thing. 
This guy is fucking cool.
We head to the pool, find some chairs under shade and shoot the shit. Every now and then taking a dip in the pool to wash the sweat off our bodies. 
It's at this time I get a text from Emily:
"Hey Blake!!! It's Emily from last night! I am heading out for night 3 tonight, if you you guys want to meet up at some point let me know 🙂 I'll be with my friend Chris ❤️"
Perfect! Learning our lesson from the previous night, I coordinate with Lauren and Adam on a meeting time and place. There is no excuse of us not to party together for our last night in Vegas!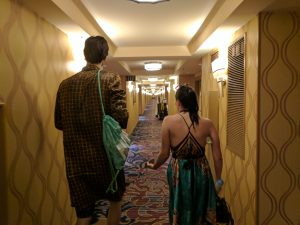 We say goodbye to Adam and head back to the AirBnB to get ready to head out. We're meeting everyone at 11pm. 
We get to the venue, and that's when I realize that I told Emily to meet us at the wrong spot. Fuck! (Turns out the carnival ride on the map wasn't where it actually was).
This is also when we learn that Adam is going to be late and the new meeting time is 12am.
Our well laid out plans are quickly falling apart!
Well, we can still meet Emily and have enough time to head back to the carnival ride to meet up with Adam. So I send Emily a text message:
"I gave you the wrong meetup place. Meet us under the Electric Avenue sign instead!"
My phone replies with "Failed to send, retry?". Daaaam you technology! I repeatedly hit retry, over and over again.
"Message Sent!"
Ok, now we wait. Tick-tock. 11:05, 11:10, 11:15. 
"Don't worry, she'll find us!" Lauren says.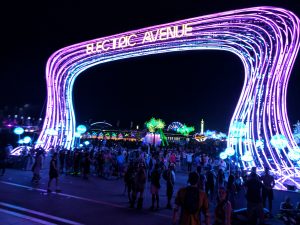 I spot Emily's curly red hair from a mile away and scream out her name. Sweet. We all say hi and head over to the VIP area at Kinetic Field. One down, one to go.
We decide to get some drinks, and that's when Chris (Emily's friend) realizes that he lost his wallet!
I've heard of stories whereby someone has lost their phone twice at the event and someone returned it to the Lost & Found both times. So there is a high chance that someone would have returned his wallet.
Emily & Chris leave us for the Lost and Found and Lauren and I head to the carnival ride to meet up with Adam. 
"I don't think we'll be seeing Emily again" I say to Lauren.
Adam and his gang show up on time we head to one of the food stands to grab something to eat. Lauren and I haven't had dinner yet. The three of us look back and realize we lost the rest of the gang.
We order some burritos and this is when I realize I don't wan't to be the third wheel. 
"Hey Lauren, I'm going to go see Markus Schulz, meet back at the Electric Avenue sign for 3am?". I ask.
She agrees and I'm off! 
This is when I get a text message from Emily saying she's on her way back to the Kinetic Field VIP area alone. Chris is stuck in the Lost and Found line for an hour or so. 
I bee-line it to Kinectic Field to meet her and we spend the next few hours or so tearing up the dance floor. 
At 3am, we say our goodbyes and I head out to meet up with Lauren. The last night is proving to be the best night and I really don't want it to end. So when I propose the following to Lauren and Adam:
"So, I'm thinking we head out at 6am?"
The look on Lauren's face wasn't what I was expecting.
"How about 5am?" She replied. 
I think for a moment: "Well, it's better than leaving now."
"Sure!" I reply.
The entire trip we spent most of our time at the high energy stages. So it was time to "clean our pallet" (as Lauren put it) and head to Cosmic Meadow. This stage plays more ambient and down-beat music. It's set up so that you can chill out on some grass and "get away" from the madness. We chill out to Chet Porter for a bit when I get a text message from someone back home.
My buddy Shawn has been following EDC all weekend on the live stream. So he tells me that they've announced the special guest artist as being Kaskade (one of my top DJs). He's been playing since 3am! By this point I only have an hour or so to see him before we head out.
I leave Adam and Lauren and try to find my way to Kaskade's stage. It's at this thing called an "Art Car". It's a decked out car that roam around the festival playing music. I'm frantically looking for this one when I see a staff member and ask her where it is.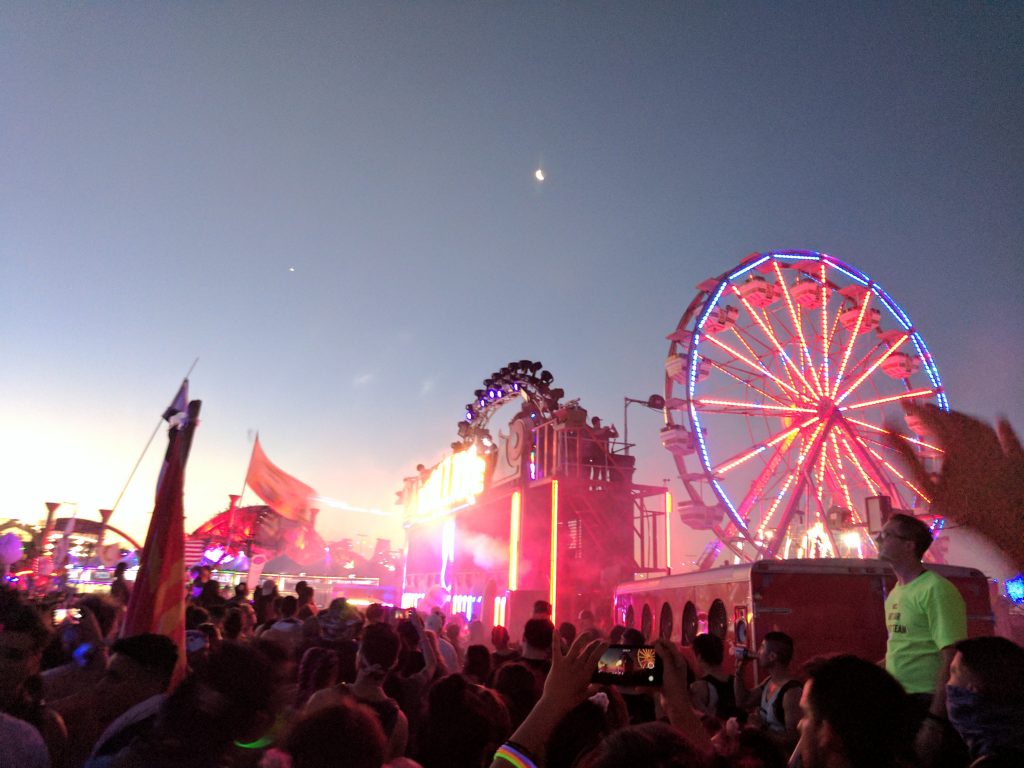 "Oh, they move around, the last time I saw it was near the Upside Down house".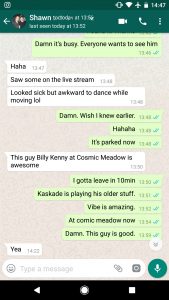 My frustration grew.. but after 30 minutes I finally found it.
The place was packed and I couldn't get as close as I wanted to.
I enjoy the show for about 25 minutes, when I get a text message from Shawn back in Toronto:
"This guy Billy Kenny at Cosmic Meadow is awesome!".
I look at the clock, I need to leave soon anyway and Cosmic Meadow is on the way to the meeting place. So I ditch Kaskade to see Billy play.
It's 5:03am and I now have a choice. I can be an asshole and not meet Lauren at the agreed time. After all, I'm having a blast. What's an extra hour anyway? She can wait. Or I can leave now and put an end to the adventure that has been EDC.
I look around and notice everyone is still going hard and enjoying themselves. It's dawn, but the sun isn't anywhere near full force yet. I think for a moment, then make my decision…